Month 62 is done in the "Making a Million Challenge" and it was another very good month with Golf and Horse racing tipsters chipping in with decent profits.
Things will be a bit quieter now we are in June and the majority of the football leagues take their summer break.
Let's take a look at results from May.
Value Betting/Trading
There was a bit more volatility in value betting this month. With it being the end of the season and varying motivations for teams. Odds movement in football becomes much more volatile.
Whilst a lot of my value betting looks at recurring patterns in the markets, it was a little bit different during May. I couldn't just rely on looking at odds movement as the markets behaved pretty differently.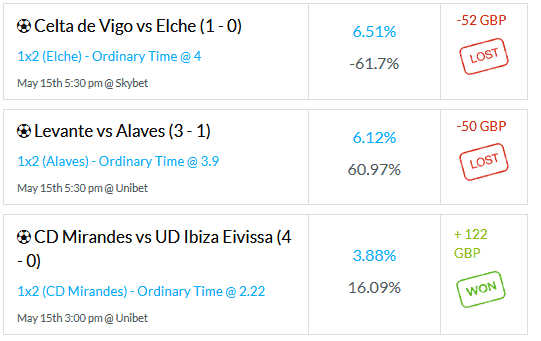 60% positive and negative edges are usually pretty rare.
I often use Trademate to keep track of closing line. You can see from the above image that there were some big swings in prices by the time games kicked off.
Overall however it was another very good month. The gravy train that was Bet365 odds boost has slowed but they still offer decent value now and again.
One of my long term Bet365 accounts was limited which is always frustrating however had it had lasted about 2 years. So can't really complain.

Using the exchanges as much as possible as long term there are only a limited amount of people I can work with. In terms of getting bets down on soft books.
In total there were 325 bets made.
A total profit of £3813 was made.
Not Familiar With Matched Betting Or Value Betting ?

Read Our Guides Below

Matched Betting Guide

Value Betting Guide
Advantage Play – Casino Offers
In total I did 9 offers during May.
A profit of £148 was made.
Not much to write about here, there are more offers that I could be doing. However I just don't really have the motivation to grind casino offers like previously. Sticking to doing higher value reload offers when they come through.
If you are looking to build a bankroll then doing lower value offers is worthwhile. Looking through Oddsmonkey's casino reload offers you can still make £50+ a week from casino offers, fairly easily.

Click Here To Read Our Guide To Making Money From Casino Offers
Smart Sports Betting Community/MMA Results
A profit of £856 was made from pre fight MMA bets this month.
If your interested in receiving these bets for free email me at [email protected] and I will send you the link.
Horse Racing Tipsters
Rejigged the horse racing portfolio this month, after things had been a little flat for a while.
In came the highly touted Hansbury Racing, along with the free SBC tipster "No Photo Needed."
Along with the long standing tipster in the portfolio Kieran Ward's Value Tips (Another free SBC tipster.)
Results were really strong this month with Hansbury Racing having some big winners early on in the month. Before giving a decent amount of the profit back. Whilst Kieran Ward and No Photo Needed had strong second half's of the month which maintained a decent profit overall for the month.
During May a profit of £581 was made from stakes ranging from £10 to £30.

Golf
PGA Profit came good this month in pretty emphatic fashion. Hitting 3 big priced winners over the course of the month. Tipping Sam Burns (34.0 winner), Justin Thomas (17.0 winner) and Max Homa (46.0 winner) which recouped all losses from the year and put the tipster up just under 100 points for the year.
Unfortunately for me. I completely forgot to place my golf bets the week Max Homa won. (Which is  the first week this year that this has happened.)

Only realizing on the Friday when golf had already started. Which meant I missed out on a 46.0 winner, buts that's betting sometimes these things happen.
Overall a profit of £466 was made from golf
Misc
A profit of £167 was made following bets from free tipsters and misc bets.
This section basically includes profit on my daily P/L which is not accounted for in any of the other sections.
One free tipster that I think is worth a follow comes from Asian Connect. If you register your interest with them as broker you get sent free tips.
Example of Asian Connect tips
I don't bet every selection but I think the break downs usually make sense. In this case Poland did shorten pretty significantly before the game started.
Thoughts
This year has been excellent so far. Profit made so far in the first 5 months is around what I normally make in a year. I am aware that I am running really well and expect things to slow down in the next two month. With a lot less football available to bet on, alongside the fact that I am clinging on to the last few soft books I have available.
In contrast to how well this year has been for me betting wise. The UK betting industry does seem to be on its arse, with over regulation and silly affordability limits. Looking like it could ruin the game completely or force all serious bettors into the black market.
Time will tell!
Given there is a lot less to bet on this month. Going to take a look at other ways to make money besides betting. Just in case it becomes no longer viable.
Looking at freelance writing jobs, creating another website. Always thought trading the financial markets could be interesting. Similar to sports betting it seems like the majority of people get burnt trading however there are those that are doing it successfully.

Thanks for reading will be back with the next report in July.

Results For May
Value Betting- £3813
Casino Offers – £148
Golf – £466
MMA – £856
Horse Racing Tipsters – £581
Misc – £167
Total Made In May

£6031
Overall Profit Since The Challenge Began
£155,779
Recommended For Matched Betting/ Value Betting/ Arbitrage
Oddsmonkey Matched Betting And Arbitrage Software (Click Here For A Free Trial)
Subscription Cost – £12.50 a month (Annual Subscription)
Trademate Sports Value Betting Software –   Click Here For A Two Week Trial
If you comment "Smart Sports Trader" in the chat when you sign up for a Trademate Sports trial. You will get an extended two week trial and also a 10% discount off your first month.
Subscription Cost – £105 a month (Monthly)
This blog post features affiliate links.


Which means that if you subscribe to a service through a link on this site I will receive a commission.

This does not come at any additional cost to you. In fact with some of these services I have negotiated discounted prices for readers of smartsportstrader.com.

I only recommend services I am using or have used in the past.
The post Making A Million From Sports Betting And Trading – May 2022 Results appeared first on Smart Sports Trader.