PGA Profit is a long running golf tipster service.
The service has been sending out selections since 2018 and has managed to secure a profit every single year.
Long Term results proofed by Smart Betting Club
One of the great things about the golf betting markets is that they are very liquid with a lot of money being traded on the betting exchanges on the major tournaments.
Which is positive for two big reasons.
1. Betting on event's that have bigger turnover's is advantageous as bookmakers tolerate winners for longer.
2. It's easier to get bets matched on the betting exchanges when the markets are liquid (lots of money matched.)
Both of these factors make golf betting appealing for bettors that are looking to make a decent primary or secondary income from sports betting.
PGA Profit Review
Results
Let's start off with what is the most important factor when looking at a tipster service.
Did the service actually make money?
Our review of PGA Profit ran over a 6 month period. This is slightly longer then normal reviews as like most golf betting tipsters. When betting on golf outright markets you are betting on big prices (10.00+) week in week out.
Which means there is going to be a lot of variance and long losing runs can be expected.
The graph of results perfectly illustrates why with golf betting you need be able to handle losing periods. From January to April this year it was pretty much one consistent downswing. At just over 100 bets you would have been down around £1500 following staking £10 per point.
However 25 bets later and you be looking at a profit of just under £1000.
| | |
| --- | --- |
| Total Bets | 136 |
| Winning Bets | 15 |
| Profit | £732 |
| Return On Investment | 17.2% |
Our Results
Let's take a look at how our tracked results matched up with official PGA Profit results.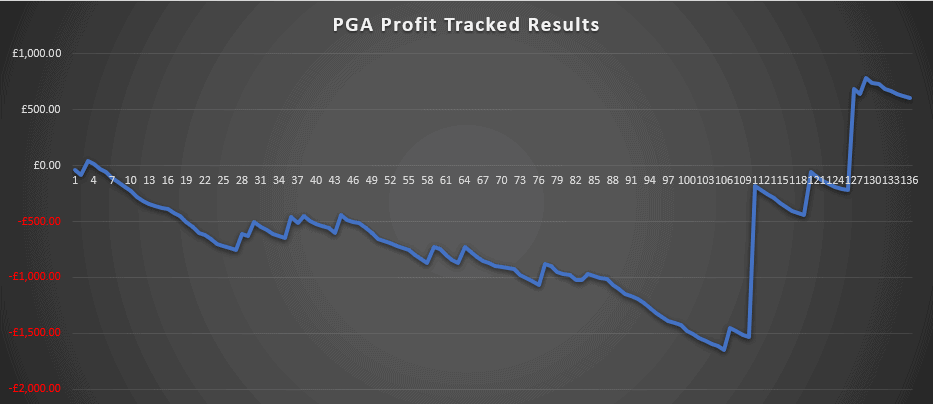 The tracked results were a little lower then official results due to odds movement after selections had been sent.
| | |
| --- | --- |
| Total Bets | 136 |
| Winning Bets | 15 |
| Profit | £602 |
| Return On Investment | 14.2% |
Can You Follow PGA Profit Using Betting Exchanges?
You are able to follow PGA Profit selections using the betting exchanges. So for those that are limited/banned from the majority of bookmakers this is an option.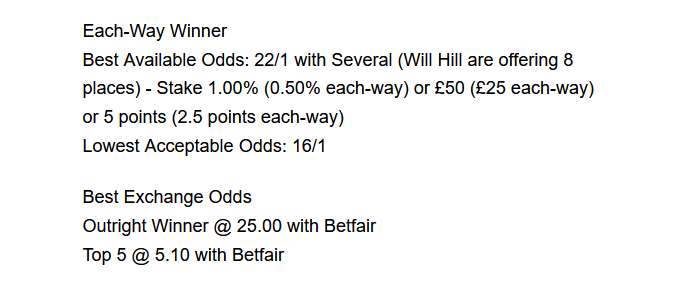 PGA Profit will send out the exchange odds when selections are sent out. Along with this they will give you the minimum value odds should a selection shorten in odds.
This week PGA Profit sent out bets for the following golfers.
Cameron Smith @ 15.00
Matt Fitzpatrick @ 21.00
Adam Hadwin @ 46.00
Chris Kirk @ 51.00
Using the betting exchange Smarkets, these were the prices that I managed to attain. The exchanges usually offer prices close to the those sent out by PGA Profit, sometimes you are able to achieve better prices.
The one downside of only using the exchanges is that you do not benefit from extra places. With the recommendation being that exchange bettors use the top 5 market to place what would be the each way part of the bet with bookmakers.
Long Term Results
PGA Profit has proofed their selection to both the Smart Betting Club and the Betting Gods Network.
It has proofed selection to the SBC since 2018. PGA Profits results over that period of time are as follows.
| | |
| --- | --- |
| Total Bets | 1423 |
| Points Staked | 4220 |
| Profit In Points | 1384 |
| Return On Investment | 32.8% |
Over on the Betting Gods network they been selections since December 2020. They have recorded the following statistics.

How The Service Works
PGA Profit is a very easy service to follow.
An email is sent out on Tuesday with selections for the next major golfing event. Which is usually happening a few days later. This gives ample time to get your bets on and by this time the exchange market have usually got a decent amount of liquidity to bet into.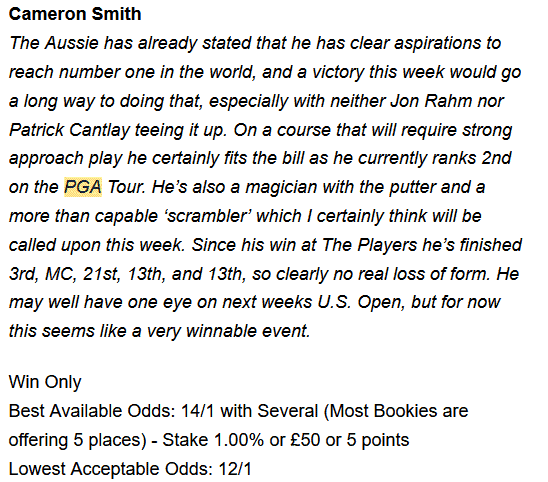 Keen golfers and golf bettors will appreciate the in depth breakdowns for each bet. Whilst for those that ae just interested in getting selections and moving on. Clear guidance is given on staking, best available odds, lowest odds you should bet and often the Betfair price is also quoted.
Overall it is an easy service to follow and you don't have to worry about the quoted odds disappearing in minutes.
Staking and Betting Bank
The service recommends a betting bank of 500 points.
Which is a large amount however makes sense given the amount of variance involved with backing at higher odds.
Staking amounts range from 0.5 points to 4 point bets.
PGA Profit Trial
There is a free trial for those that are interested in testing out the service. This is available with the Betting Gods network.
The trial itself only lasts for 5 days which would give you selections for one tournament. If you do want to trial the service then it makes sense to do so at the start of the week Mon/Tue as if you timed it wrong you could miss out on getting any selections.
Click Here To Trial PGA Profit
PGA Profit Subscription Cost
PGA Profit offers 3 subscription models via Betting Gods.
Monthly at the cost of £59 per month.
Quarterly at the cost of £149 per quarter (£49.60 per month)
Annually subscription costs £599 (£49.9 per month)
Oddly the quarterly membership works out as the cheapest current option.

PGA Profit Review Conclusion
Our review of PGA Profits was an interesting one as it really highlighted the long term view you need to approach golf betting.
For those that want a smoother less volatile way of making money from sports betting. Then I would recommend looking at matched betting or value betting.
However for those that can ride out the storm of volatility that comes with betting on golf. There are some major benefits to betting on this sports.
With the biggest one being that you can use betting exchanges to get bets down. Which for many is becoming the only way that they can bets down following betting tipsters.
Given its historical results and ones attained over the last 6 months.
PGA Profits does stand out as one of the best golf tipsters currently available on the market.
Click Here To Get Your Free 5 Day Trial Of PGA Profit
Affiliate Disclaimer
(This article features affiliate links. This means that if you choose to make a purchase, I will earn a commission. This commission comes at no additional cost to you. I use or have used any product I review. If I recommend them it is because I believe they are helpful, useful and offer value to their customers. Please do not spend any money on these products unless you feel they will give you value or that they will help you achieve your long term goals.)
The post PGA Profit Review 2022 – Free Trial appeared first on Smart Sports Trader.