Basketball Geek Review
In this Basketball Geek review we will take an in depth look at this basketball tipster service.
The Basketball Geek comes out of the Betting Gods tipster platform.
In this review our focus will be on.
Are the quoted odds achievable?

Can you follow the Basketball Geek using only exchanges and sharp bookmakers?

Is the Basketball Geek a profitable tipster to follow?

Basketball Geek Results
So first off let's take a look at our recorded results following this basketball tipster compared to the official results.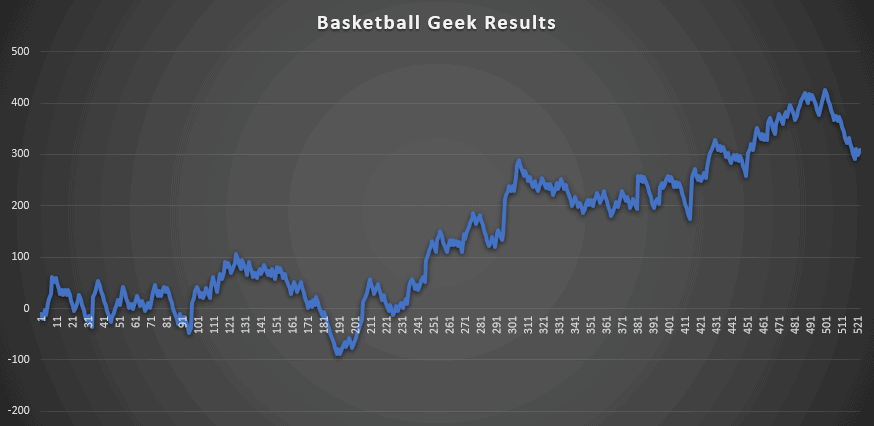 The graph above shows my results following the Basketball Geek recorded as staking £10 per selection. These results are over a 3 month period.
In total there were 522 bets, a profit of £308 was made.
Staking £10 per selection a total of £5220 was staked.
A return on investment of 5.9% was made.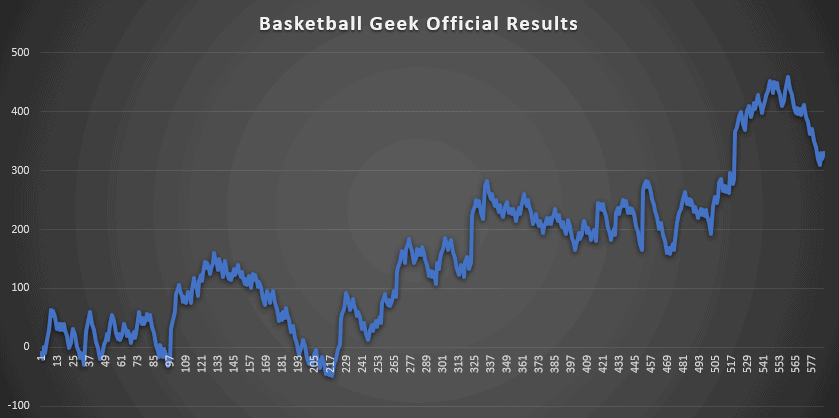 The second graph is the official results for the Basketball Geek.
There were 586 official selections over the same 3 month period.
A total profit of £329 was made to £10 stakes.
Staking £10 per selection a total of £5860 was staked.
A return of investment of 5.6% was made
Why The Difference?
There is a difference in results for a few reasons.
Missed bets
Selections are sent out at 08.00 in the morning. There were a few occasions where I wasn't able to bet these selections at this time. I either completely missed these selections or they shortened in odds to the point where I wasn't able to get close to the quoted prices.
Bets likely to get my account limited 
Some selections the Basketball Geek sends out are on obscure markets, that I felt were likely to get my account flagged as being sharp. For example betting friendly matches in the Estonian league is likely to raise a red flag to a bookmaker's risk team looking at my betting account.
I made the decision not to include these bets.
Breaking Down My Results 
In total £302 was made from the 1×2 market and Asian Handicap market after 284 selections.
The total profit made from the Under/Over market after 238 selections was £6.
Breaking into down into odds ranges you can see the results in the table below.
| | | |
| --- | --- | --- |
| Odds 2.00 and below | 335 selections | -£33.00 |
| Odds 2.00-3.00 | 67 selections | £155 |
| Odds 3.01 – 4.00 | 38 selections | £85 |
| Odds 4.01 – 6.00 | 34 selections | £80 |
| Odds above 06.01 | 28 selections | £21 |
Results Since Adding The Basketball Geek To My Own Portfolio
Since this review I have started using The Basketball Geek as part of my long term effort to make £1,000,000 from the sports betting markets.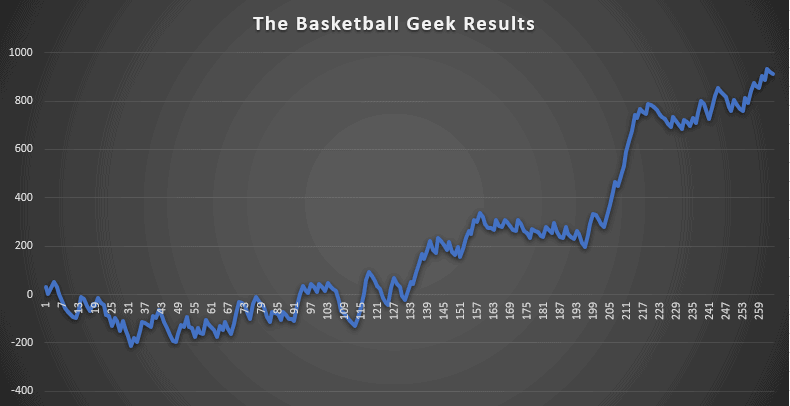 Aiming to win around £40 per bet (rounding up stakes.)
After 264 bets a total profit of £912 has been made after the initial review was published.
(I stopped using this tipster at the beginning of 2021, This was due to increased bookmaker limitations and I found using sharp bookmakers the odds were getting harder to match.)
Basketball Geek Review –
Are Quoted Odds Achievable?
The Basketball Geek quotes a long term return on investment of 13.77%, is this realistically achievable?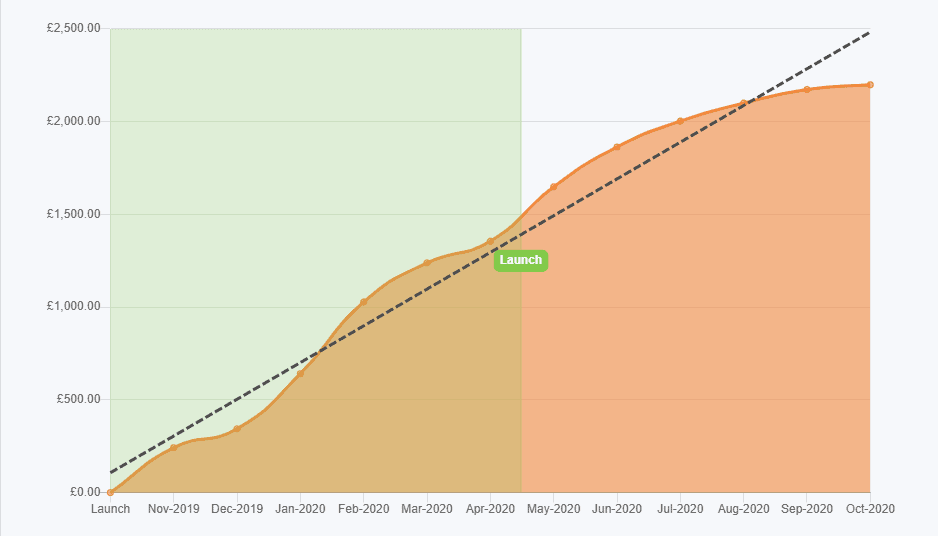 I will be honest no I don't think it is.
The Basketball Geek is a obviously a very talented tipster but I do think they that should adjust the way they record their odds.
Here is an example of why I think they to need change this.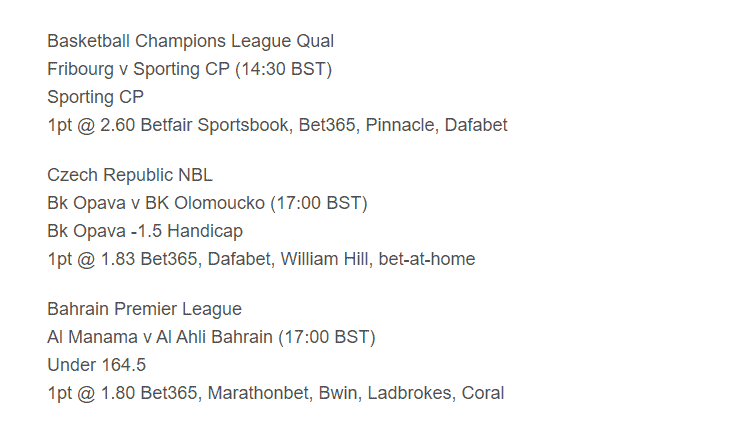 At 08.00 I received the selections for the day and at the top you can there is a selection for Sporting CP at odds of 2.6.
The Basketball Geek quotes Betfair Sportsbook, Bet365, Pinnacle and Dafabet as the bookies with these odds available. (or at least that is how I interpret the email)
However when I go to place this selection I see that these odds were only available with Betfair Sportsbook.
Using oddsportal and looking at the Pinnacle odds, you can see that odds of 2.6 were not available that day and that odds of 2.42 were available when the selection was sent.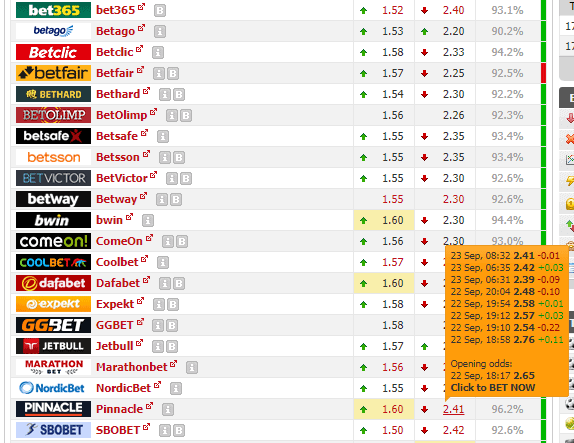 So getting the the exact same odds as the Basketball Geek usually requires you to have access to the one bookmaker that is offering a standout price.
I believe a fairer way to record prices would be to take a price which is widely available with 2 or 3 bookmakers.
Also something I would like to see from this tipster and all tipsters in general is minimum bet odds. If the odds do shorten I want to know what are lowest odds I should consider taking.
Getting Better Then Quoted Odds
For balance however I should note that there were times when I could get a better price then the one quoted in the Basketball Geeks email.

Here is a selection sent out for WNBA games with quoted odds of 1.9.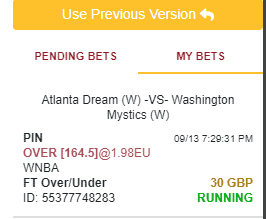 I was able to get 1.98 on this selection.
The more popular the league, the easier it was to match quoted prices or get better then advised. So for example NBA, WNBA and the Chinese Basketball Association were quite easy to follow.
However overall I believe you will generally get lower then the odds quoted in the official email.
Which Bookmakers Do You Need To Follow The Basketball Geek?
In order to follow all of the Basketball Geek's selections you would need access to a few soft bookmaker accounts.
The most important one would be Bet365. I found that the majority of selections were found with Bet365 and they were often also the best priced bookmaker for a number of selections.
Marathonbet was another bookmaker that were also were quoted often. If you have access to the majority of European bookmakers such as Unibet, William Hill, Betsafe etc then you will be able to bet on the majority of selections.
Can I follow the Basketball Geek just using exchange and Asian Bookmakers?
Yes and no.
You will not be able to bet on every selection that the Basketball Geek advises. There are some leagues that Pinnacle do not feature and the liquidity on the Betting Exchanges is not there for the smaller leagues.
For the NBA,WNBA, CBA and majority of the European leagues you will be able to bet using Pinnacle.
You will miss some of the more obscure bets on smaller leagues and friendly bets.
Outside of the NBA, the liquidity on the exchanges was generally very poor for most other basketball markets at the time when selections were sent out.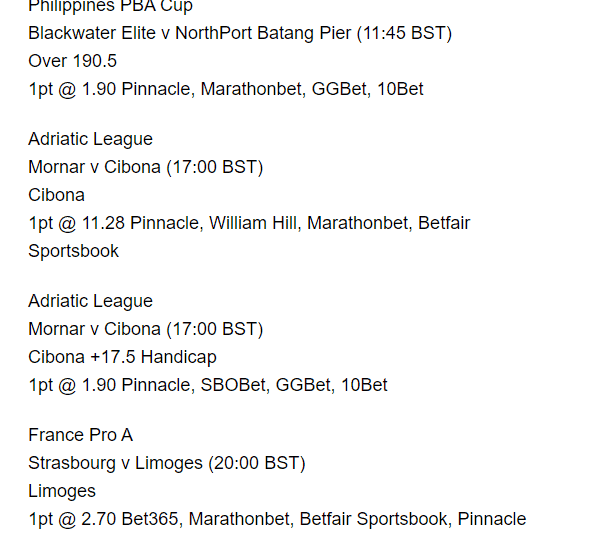 Here is an example of today's bets.
You can see from the 4 bets advised, that all 4 were available with Pinnacle.
The Basketball Geek sends out on average 175 selections a month.
So given the volume of bets even if you are not able to bet every selection due to bookmaker restrictions. You should still able to bet 100 selections or more a month.
The Basketball Geek Review – Conclusion
So the big question is do I think that you can make a profit following the Basketball Geek.
Yes I do.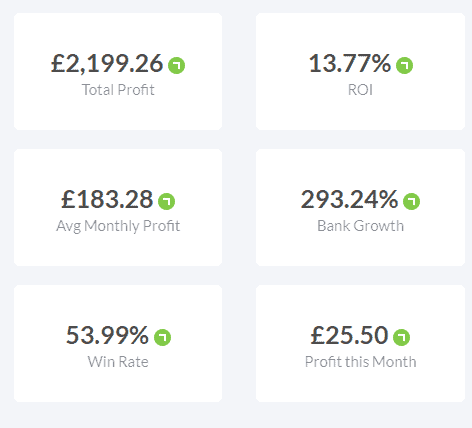 Although I have issues with the way they record the official results and I wouldn't follow the same staking plan as recorded on official results.
(They record everything to staking £10 on every selection. So for example they stake £10 at odds of 10.00 and £10 on a selection at odds of 1.87)
Shortening Odds
The Basketball Geek generally advises selections that shorten in odds throughout the day. This is a very good sign that long term these selections are going to be profitable.
Here is an example from today, the over 190.5 in the Blackwater vs Northport game.

The selection was tipped at odds of 1.9 and closed at 1.7 with Pinnacle.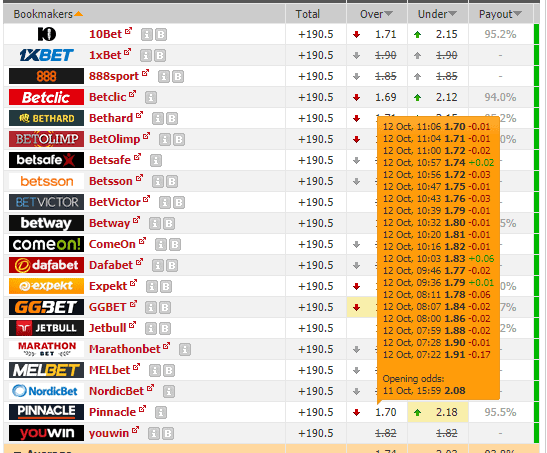 If you want to see how the Basketball Geek does in the future I will be using the service as part of my making a million from sports betting challenge.
Using a variable staking strategy. Staking smaller amounts on higher odds (£5 at odds of 10.00) and staking higher amounts on lower odds (£50 at odds 1.87)
Which I believe will be profitable in the long term.
If you subscribe to the www.smartsportstrader.com newsletter you will get a monthly update on his performance, along with every other strategy I use to make money from the sports betting markets.
So overall although the Basketball Geek is not without issues there are a lot of good points.
The volume of bets is high with 100+ selections a month which is a big positive.
I made a decent profit over the review period despite taking lower odds then those quoted. Along with not betting some of the more obscure selections. 
All in all I do believe that despite its issues the Basketball Geek is still one of the best basketball tipsters available on the market.
If you want to test out the Basketball Geek Yourself, Click here for a 15 day trial
Affiliate Notice
(This article features affiliate links. This means that if you choose to make a purchase, I will earn a commission. This commission comes at no additional cost to you. I use or have used any product I review. If I recommend them it is because I believe they are helpful, useful and offer value to their customers. Please do not spend any money on these products unless you feel they will give you value or that they will help you achieve your goals.)
The post The Basketball Geek Review 2022 – £2211 Profit From £10 Stakes? appeared first on Smart Sports Trader.