First month into 2022 and it was a rocky one from a betting perspective.
Value betting went through a period were it was just constant losses for a couple of weeks. Didn't matter what the odds were or how much I beat the closing line.
Just seemed like the god of betting, enjoyed seeing me lose day after day.
Let's get into the results from January!
Value Betting
Value betting was a bit of a roller coaster this month. Went through a losing period that I never experienced before early on in the month. For around 100 bets it seemed like 90% lost, whilst it was very frustrating. I wasn't doing anything different from the last few years.

It's a proven strategy, the staking was fine. It was just a case of riding out the storm(Was what I told myself to stop me launching the computer through the window.)
On the plus side found a few new angles this month to get on more value bets on. Started staking more and trading the bets I was confident would shorten.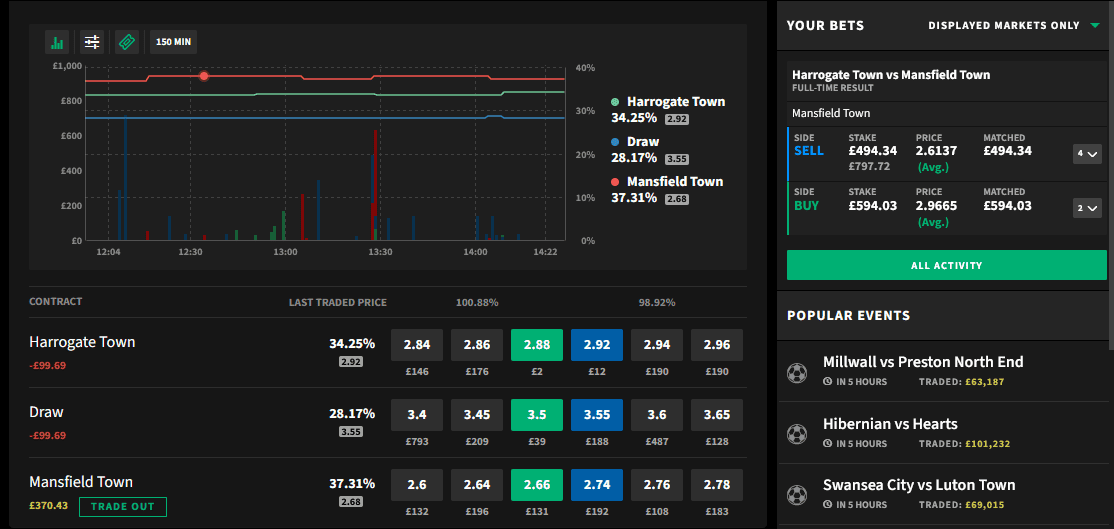 This is something I have been doing for quite a while. Value betting day in day out has meant that I have looked at thousands of betting markets. Because of this there are a few patterns that occur over and over. Some of these can be bet using the exchanges, along with local shops.
Trading these selections should reduce variance with value betting. Effectively your just getting even larger value bets. For example getting Mansfield at 4.7 when the true odds were 2.7.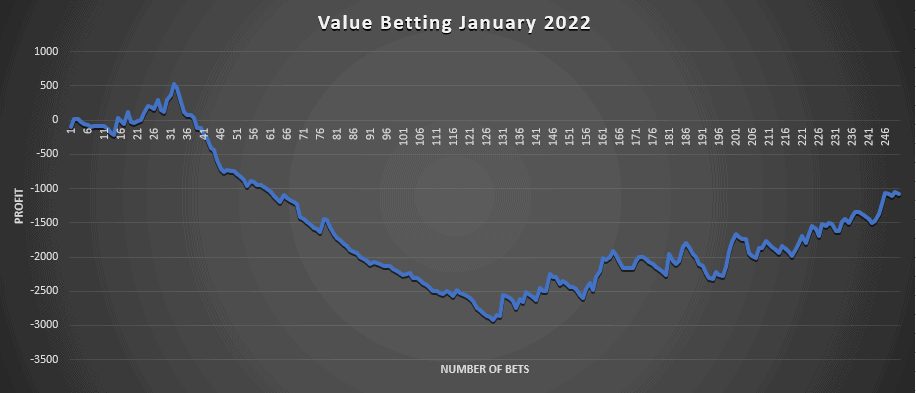 During January there were 250 value bets.
A loss of -£1083 was made.
Not Familiar With Matched Betting Or Value Betting ?

Read Our Guides Below

Matched Betting Guide

Value Betting Guide
Advantage Play – Casino Offers
A small winning month for casino offers in January.
Not a whole lot going on with casino offers at the moment. There are a few recurring Bet365 offers week in and week out. Casumo had a decent 30% cashback offer on live casino games. Overall however not getting a lot of volume at the moment.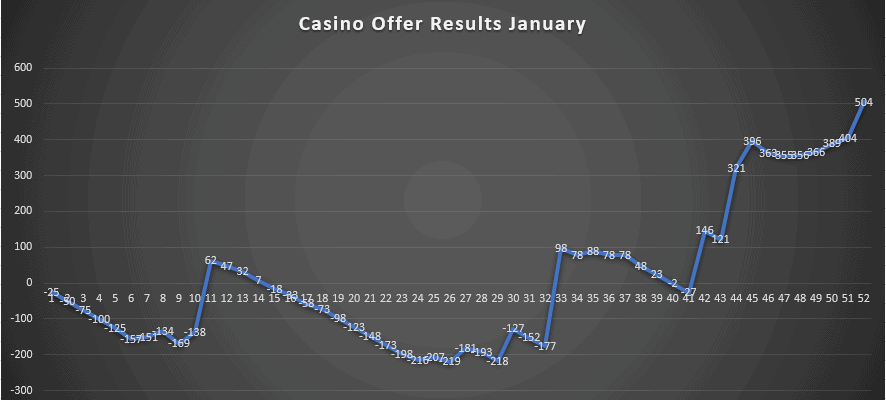 During January I did 52 offers.
A profit of £504 was made.
 Click Here For To Learn How To Make Money From Casino Offers
Smart Sports Betting Community/MMA Results

Only 7 bets in January as there wasn't the usual weekly UFC event. With only two events happening.
Overall a profit of £789 was made
Horse Racing Tipsters
The horse racing tipsters delivered again in January. With Beth Bet being a big part of that and providing the majority of the selections.
So it was it was a surprise to get an email in the last week of January. Stating that they would be closing the service.
Not sure why, there was no reason given. However it has left quite a hole in the horse racing tipster portfolio. Which will really effect the turnover.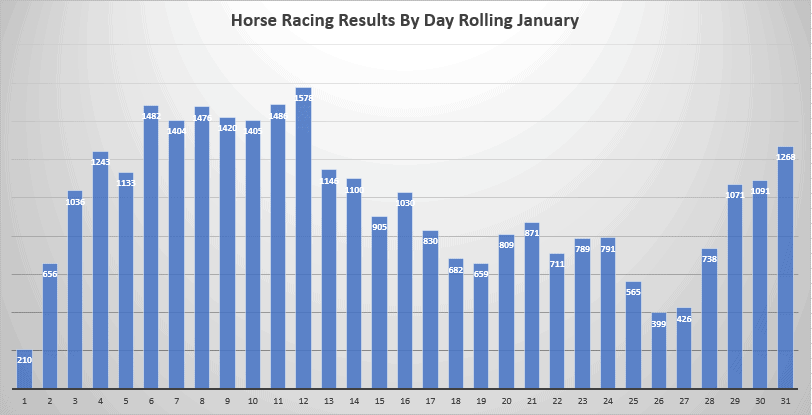 Overall a profit of £1268 was made.
The staking plan for horse racing is very simple – £10 on horses odds of 10.00 above and £20 on horses at odds of below 10.00.
Beth Bets exit leaves two horse racing tipsters at the moment.
Quentin Franks Racing – Betting odds 5.0 or above using only exchanges (Click Here For Our Review)
Kieran Ward Value Service (Free Smart Betting Club Tipster)
New Tipsters
Beth Bet has opened my eyes to how profitable horse racing betting can be. I am looking to add some more tipsters and if anyone has recommendations please let me know.
A few that I am considering at the moment are.
The Value Machine
Looks like the closest service to Beth Bet however I am not sure how workable it would be with the exchanges.
CD Systems Daily Bargain
Has solid long terms results and is a service that is profitable on the exchanges.
Lucrative Racing
Have a few different services that look very promising.
If anyone has feedback on any of these services, let me know in the comments or send me an email.
Golf
The Golf portfolio came good this month, after stuttering along for a while.
PGA profit chipped in with some nice winners.

Could have been much better but I disappointingly missed the email (my own fault) sent from the Smart Betting Club's free tipster Rainmaker. Who gave out the winner Luke List at odds of 80.00.
Overall however it was good to get a winning month from the golf betting.
There were 67 golf bets in January, a profit of £265 was made.
Trading/Free Tipsters/Misc
Everything else accounted for a loss of -£441.
Mainly down to some of the free tipster selections that I take performing badly. Last year using several different free tipsters was pretty profitable. Then when Betmarkets folded (which was where I was getting a lot of tips from) I just stopped doing it.
However there are a number of decent people to follow on twitter that give out good betting tips.
Below are a couple that I follow and recommend.
Harout Massoyan (Tennis)
Bet On Value (Football)
Skeeve (Lower League English football)
Thoughts
An interesting month were mid way through I had pretty much accepted it would be a losing one. One positive aspect of this month was despite when things were going really sh**. At no point did I consider changing anything that I was doing, as long term I know it wins.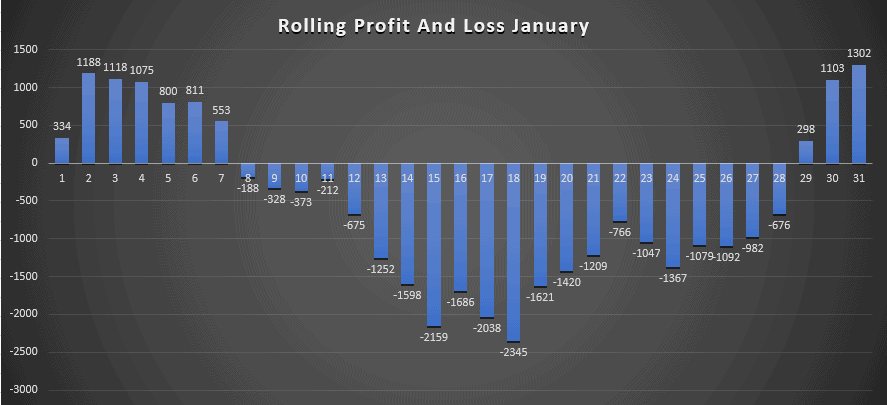 Which earlier on in my betting would not have been the case.
Caught in two minds when it comes to betting. As much I enjoy it, the future of betting professionally in the UK doesn't look great. Single customer view (looks to be happening) and silly monthly deposit limits have already effected some of my accounts. In terms of scaling things up these issues do get in the way.
Whilst I am sure I will always bet whilst its profitable. I have for a while been contemplating about putting more time into something else. Just in case making a primary income from betting becomes something that's not possible anymore.
But for now whilst there is still money to made, it makes sense to see how far I can take it.
Results For January
Value Betting- –£1083
Casino Offers – £504
Free Tipsters/Trading- -£441
SSBC/MMA – £789
Horse Racing Tipsters – £1268
Golf Value – -£265
Total Made In January

£1302
Overall Profit Since The Challenge Began
£129,789
Recommended For Matched Betting/ Value Betting/ Arbitrage
Oddsmonkey Matched Betting And Arbitrage Software (Click Here For A Free Trial)
Subscription Cost – £12.50 a month (Annual Subscription)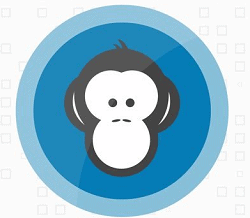 Trademate Sports Value Betting Software –  Click Here For A Two Week Trial
If you comment "Smart Sports Trader" in the chat when you sign up for a Trademate Sports trial. You will get an extended two week trial and also a 10% discount off your first month.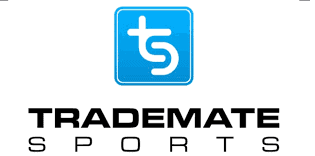 Subscription Cost – £105 a month (Monthly)
This blog post features affiliate links.


Which means that if you subscribe to a service through a link on this site I will receive a commission.

This does not come at any additional cost to you. In fact with some of these services I have negotiated discounted prices for readers of smartsportstrader.com.

I only recommend services I am using or have used in the past.
The post Making A Million From Sports Betting And Trading – January 2022 Results appeared first on Smart Sports Trader.