March marked the 60th consecutive month in treating betting as a business.
After a really strong February I was really hoping to finally break over 5k profit in month.
Let's take a look at results from March to see if it that happened.
Value Betting/Trading
Value betting and trading went like a dream in March. I continued to develop an edge that had been working really well. Staked more aggressively when I was confident, traded positions that I thought had a high likely hood of shortening in price.
Had some big in-play UFC bets which came off as during March we had some earlier start times.

During March there were 505 value bets.
A profit of £10,716 was made.
This month was pretty ridiculous in terms of profit. It was way bigger then any previous month. As much as I would like to go into more detail about the exact strategies I am using.
Giving too much away would only be detrimental to my own betting and create competition for the bets I get on. What I will say is that it is all based on looking at different ways to beat the closing odds.
Below is a video showing proof of results (screenshots are very easy to fake). Although I can't give away all my strategies, I still want to be transparent and give people motivation to see what is possible if you stick with things.
https://smartsportstrader.com/wp-content/uploads/2022/04/Profits.mp4
Not Familiar With Matched Betting Or Value Betting ?
Read Our Guides Below
Matched Betting Guide
Value Betting Guide
Advantage Play – Casino Offers
Solid but unspectacular results for casino offers. Only really doing weekly offers now from Bet365 and the occasional reload offers. Could do a lot more but would rather spend that time looking at sports betting as the moment.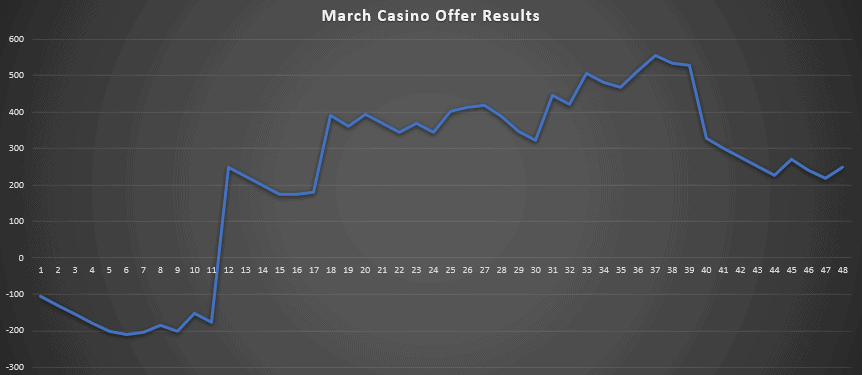 During February I did 48 offers.
A profit of £248 was made.
 Click Here For To Learn How To Make Money From Casino Offers
Smart Sports Betting Community/MMA Results
It's been a breakeven year so far, for my pre fight MMA selections. Which I'm not overly concerned about as my volume is low and still pretty confident long term I cam beat the markets.
In March a small amount of profit was made.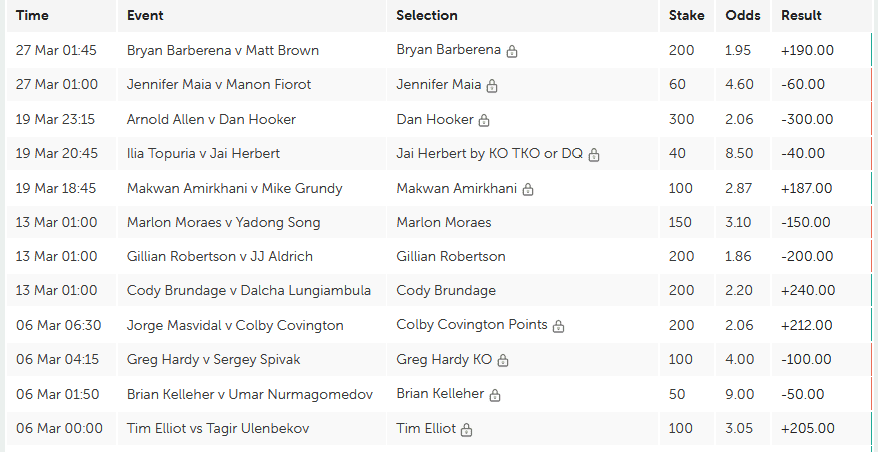 12 bets were made in March.
A profit of £134 was made
Horse Racing Tipsters
Cheltenham festival came and went in March. I managed go without a single win over the whole festival.
Came close with a few seconds, CD Systems also tipped up Corach Rambler which was a winner. However for some reason my bet was only partially matched on Matchbook. Which meant I missed out on a decent winner.
Overall the horse racing portfolio still feels a little flat. With no big international football tournament this summer, doing more on horse racing is something I will look at.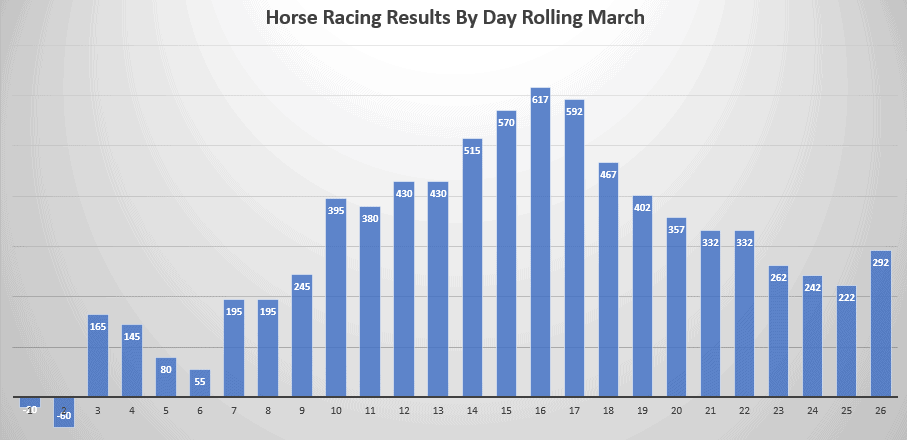 A small profit of £292 was made from horse racing.
These are the current horse racing tipsters I use.
CD Systems Daily Bargain
Quentin Franks Racing – Betting odds 5.0 or above using only exchanges (Click Here For Our Review)
Kieran Ward Value Service (Free Smart Betting Club Tipster)
Golf/Free Tipsters/Misc
From everything else which includes some bets from matchbook insights, golf tips from PGA profit.
A loss of -£403 was made.
Thoughts
Breaking £10k profit in month having previously never won over £5k was pretty f***ing awesome not going to lie. But it didn't change anything.
Kind of half expected a fireworks display and some C list celebrity knocking on the door with a giant cheque. 
What It did prove however was that going all in and actively looking at developing my own edges. Rather then relying on tipsters. Was something I should have done probably much sooner.
Whilst I don't think that every month will be as good as March. I am pretty confident that this year should see a new year high in profit for betting.
Still looking at joining FTS Income for next season. Will probably look also at Tradeonsports during April as it looks like they have made some new developments. Would really like to develop my in-play betting, the edge I have in pre match isn't going away any time soon. But I still think its important to keep finding new edges where possible.
Overall it was a stand out month. April's results should be interesting as it should be a good indicator of whether I just ran extremely well in March ir things will continue this way.

Results For March
Value Betting- £10,716
Casino Offers – £248
Free Tipsters/Golf/Misc – –£403
MMA – £134
Horse Racing Tipsters – £292
Total Made In March

£10,986
Overall Profit Since The Challenge Began
£145,429
The post Making A Million From Sports Betting And Trading – March 2022 Results appeared first on Smart Sports Trader.