For the last few months the recurring thought has been "pivot or go all in."
The betting landscape in the UK doesn't look the best at the moment. So it did make sense to look at what other opportunities there are to make an extra income.
Investing, cryptocurrency, blogging, affiliate marketing, Amazon fba, youtube. There is an endless amount of ways to look at making an extra income.
However in February I decided to focus entirely on betting/trading for the rest of the year. Its the old adage of being a "jack of all trades, master of none."
Let's take a look at results from February to see if it paid off.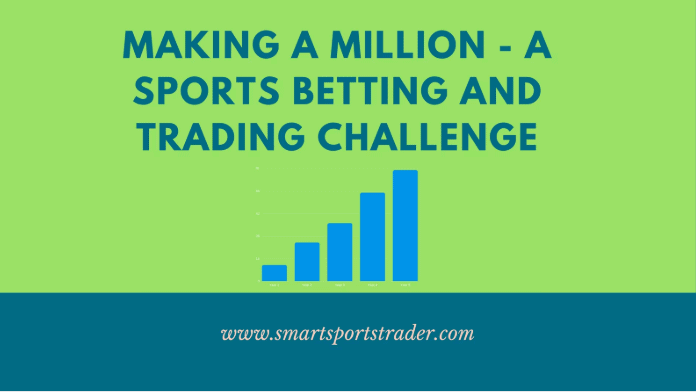 Value Betting/Trading
January was a tough month for value betting however February more then made up for it.
From looking at the markets over a longer period, something I noticed was recurring patterns that happen pretty consistently. A positive from this is that I can normally get down on exchanges and add a trading element rather then straight up value betting.
For example with Young Boys you can see I get odds of 2.42, when they are trading at 2.06. By trading out half the stake or more. It creates a larger value bet.
This doesn't pan out every time however I am able to read the markets well enough to be right about 70% of the time.
Still also value betting a lot with bookmakers and in shops, but this strategy has been working well so far. Plus has the benefit of not having to worry about limitations.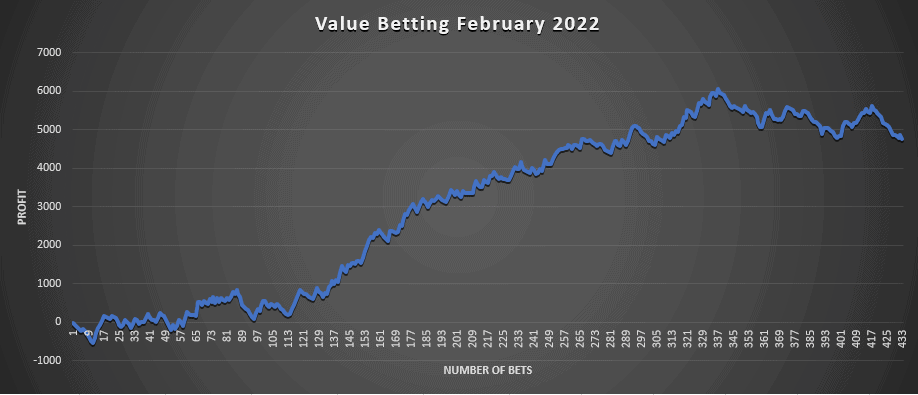 This alongside Bet365 putting out several value bets everyday meant there was a decent increase in volume for February.
During February there were 433 value bets.
A profit of £4768 was made.
Not Familiar With Matched Betting Or Value Betting ?

Read Our Guides Below

Matched Betting Guide

Value Betting Guide
Advantage Play – Casino Offers
Not much to see here.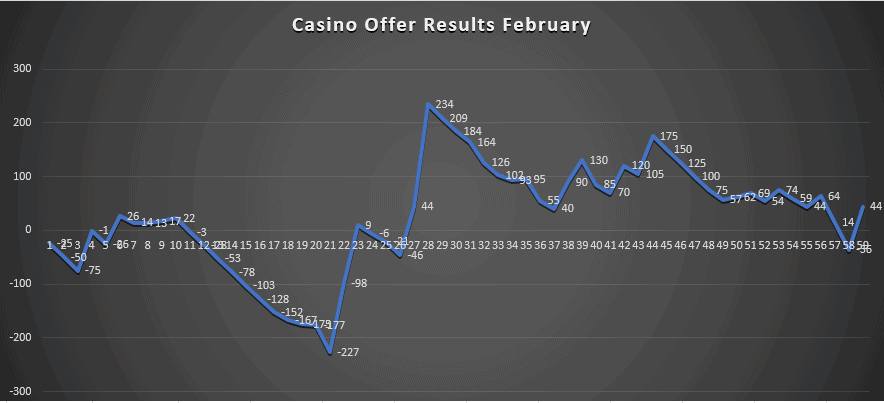 A low volume, low profit month for casino offers.
During February I did 59 offers.
A profit of £44 was made.
 Click Here For To Learn How To Make Money From Casino Offers
Smart Sports Betting Community/MMA Results
Not a very good month betting on mixed martial arts in February.
Generally betting on underdogs so these runs are going to happen.
Not a lot to add really, not betting a lot of volume over the course of the month.
Long term results are still good.
There were 12 bets in February, a total loss of -£787 was made.
Horse Racing Tipsters
Beth Bet closing up shop left quite a gap in the horse racing portfolio.
CD systems daily bargain was brought it and a few other free tipsters were used.
All in all though it was bit of a car crash for the month of February as everything lost.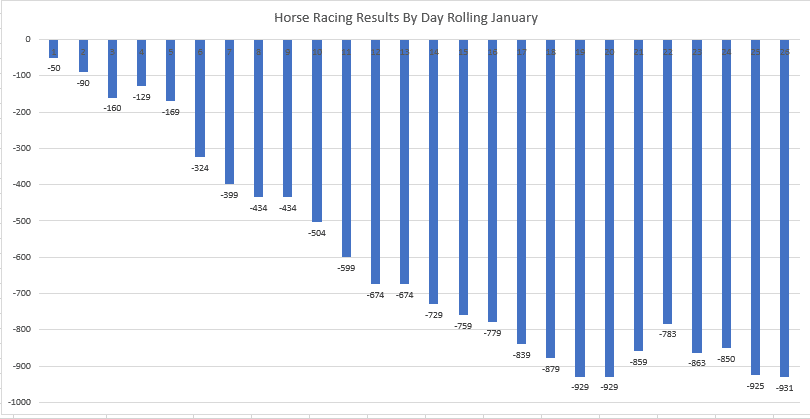 Not a good sign to lose nearly 50 points in month. Especially considering the amount of volume is much less now that Beth Bet is not providing 20 -30 selections. Generally betting somewhere between 2-7 selections a day currently.
These are the current horse racing tipsters I use.
CD Systems Daily Bargain
Lucrative Racing (Daily free selections)
Quentin Franks Racing – Betting odds 5.0 or above using only exchanges (Click Here For Our Review)
Kieran Ward Value Service (Free Smart Betting Club Tipster)
Overall a loss of -£931 was made following horse racing tipsters.
Golf
February was a strong month for the selections with a few big priced winners.
My staking is pretty simplified for the golf, aiming to win around £200 per bet.
Currently using PGA profit and the free Smart Betting Club Tipster Rainmaker. Along with some other free selections from Ben Coley and value based selections.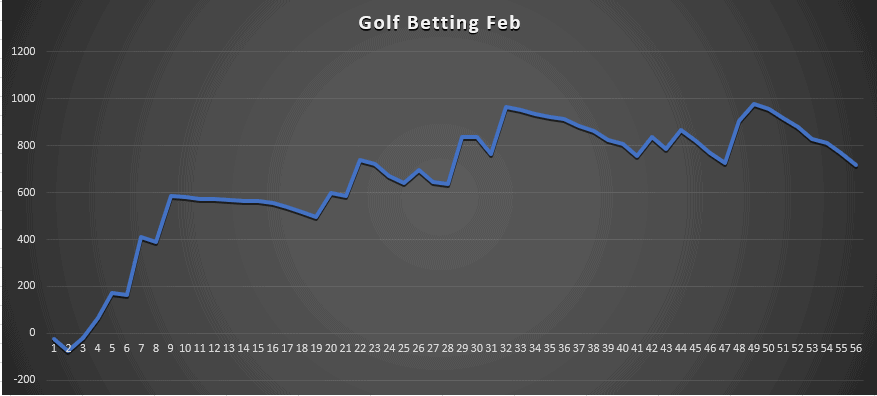 Overall a profit of £718 was made from golf.
Trading/Free Tipsters/Misc
Everything else which includes some in-play betting, trading and a few bets from free tipsters accounted for a profit of £847.
Traded a few positions on the UFC and a few profitable in-play football bets accounted for the majority of the profit.

Thoughts
After a poor start in January, it was nice to rebound with my best ever month in February. At one point I was £5k in profit which would have been a cool barrier to break. But a downswing at the end of the month prevented that.
Overall pretty happy with how things are going. Making a firm decision to go all in with betting, alongside still working full time. Payed off well in the short term.
Edges come and go, but I do think I have found a new value betting approach that is going to work long term.
I am always looking for new ways to make money from sports betting. Looking at joining FTS Income for next season. Having listened to Ian (the guy that runs FTS) podcasts on and off for a few years. It's clear to me that he is legitimate and has made good money from betting/trading.
So learning his process and approach is only going to benefit me going forward.
If anyone is a long term member and has any feedback I would love to exchanges messages.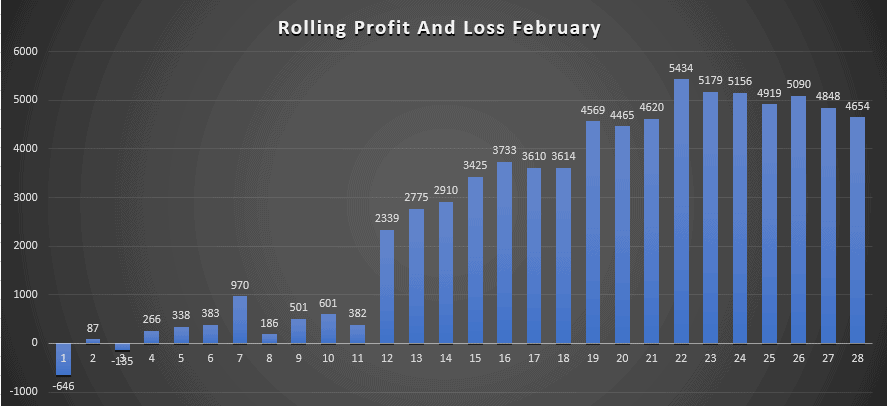 Results For February
Value Betting- £4768
Casino Offers – £44
Free Tipsters/Trading – £847
MMA – –£789
Horse Racing Tipsters – –£931
Golf – £718
Total Made In February

£4654
Overall Profit Since The Challenge Began
£134,443
The post Making A Million From Sports Betting And Trading – February 2022 Results appeared first on Smart Sports Trader.