After a fairly disappointing June, did things rebound in Month 64 of the "Making A Million Challenge!"
July overall was another quiet month betting wise but things picked up at the end of the month with lower league English football returning.
Another highlight of the month was seeing the England women's team win the Euros. The women's game gets quite a bit of flak but I really enjoyed it. You see way less play acting and general shit housing, it was refreshing to see players get hit with a hard tackle and then just get up.
Generally they just seemed like they wanted to get on with playing football.Rather then use every little physical altercation as an opportunity to get teh opposition carded.

It highlighted really how pathetic a lot of male footballers are in the modern game. How rolling around pretending to be hurt just became an accepted part of the men's game. I will never understand the decision to let it become an accepted part of the men's game.

Seeing grown men, who are role models for millions of children act this way again just seems really pathetic.
Anyway enough rambling, let's dig into the results.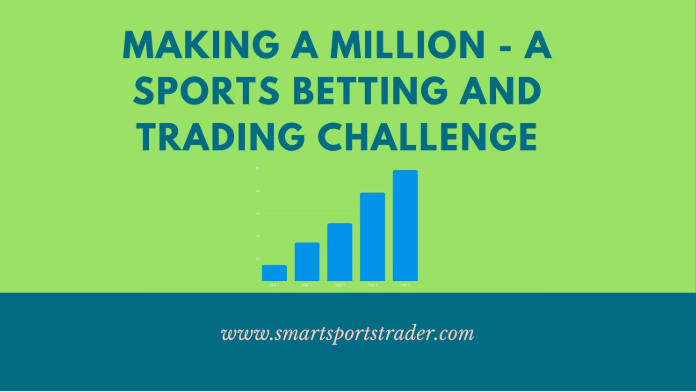 Value Betting/Trading
Still a fairly quiet month for value betting.
The women's Euros did throw up some selections, as did the UEFA qualifiers. Had a quite a few bets in the MLS and some of the summer leagues also.
August will see things ramp back up however with the return of major European leagues.

In total there were 135 bets made.
A total profit of £811 was made.
Not Familiar With Matched Betting Or Value Betting ?

Read Our Guides Below

Matched Betting Guide

Value Betting Guide
Advantage Play – Casino Offers
Very small amount of casino offers done this month. There is much more that I could be doing here. In honesty it's just a lack of interest on my part to grind casino offers at the moment.
I did 3 reload offers this month.
Losing £80 in total.
Click Here To Read Our Guide To Making Money From Casino Offers
Smart Sports Betting Community/MMA Results
It was an improved month on the MMA betting front.
Felt like the things had been going against us the last couple of months. The misfortune which was Tom Aspinall breaking his leg 15 seconds into his main event fight against Curtis Blaydes. Gave us some profit in what I expected to be a competitive fight.
So the MMA betting gods seem to shining some favour our way again, Praise Odin!!
A profit of £575 was made from 15 bets.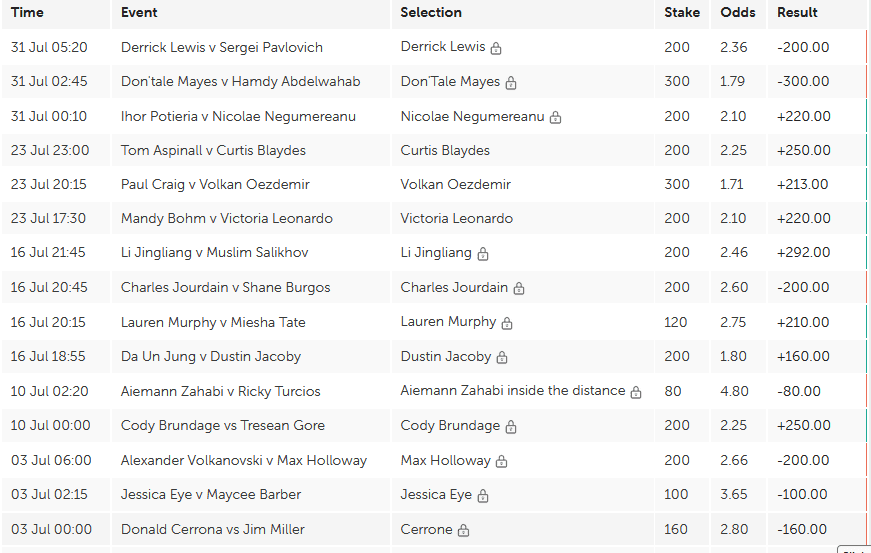 Horse Racing Tipsters
Pretty sure last month was the worst month on record for horse racing bets.
It was pretty much a month of consistent losers and gave back much of the profit made since Beth Bet folded.
The current racing tipster portfolio consists of 3 tipsters.
Hansbury Racing

No Photo Needed (free Smart Betting Club Tipster)

Kieran Ward's Value Tips (free SBC tipster.)
Hansbury Racing was the big loser this month . It really struggled to hit much this month and has been giving back most of the profit it previously made.

Overall a loss of -£1025 was made from horse racing.
Golf
My venture into the world of golf betting might be coming to an end soon. It's been 11 months since I started golf betting and after last months results the overall graph is standing at -£25.
There has been some missed bets and using the exchanges only means that there isn't the advantage of extra places. However I am starting to feel like my time might be better spent elsewhere.
In July a total of -£257 was lost betting on golf.
FTS Systems
This month I got the chance to delve into the data that FTS Ultimate provides.
It's been really interesting getting a chance to look at the historical odds data and models that you get with FTS. I have had theories about strategies that might work long term, in the past.
"Yes I knew I was fucking right!" or "Ah balls I really thought that would work!"
Actually getting to confirm whether that is true or not with actual data is really rewarding.
Pretty excited to see how this goes in the long run. The fact that it looks possible to have winning strategies in high liquidity markets. Where I don't have to worry about bookmaker limitations is very appealing.
From FTS Ultimate I have developed 6 systems that I am pretty sure will win long term.
For this season I will stake pretty conservatively at £50 a point.
Going forward there will be a lot more selections but this month there were 8 bets.
A loss of -£137 was made.
Misc
Misc includes profits or losses made from anything that is noted down on the previous headings. This is usually from following from bets from free tipsters. That I don't individually record.
A loss of -£135 was made
Results For July
Value Betting – £811
Casino Offers – -£80
Golf – –£257
MMA – £575
Horse Racing Tipsters – –£1025
Misc – -£135

Total Made In May

-£111
Overall Profit Since The Challenge Began
£155,827
The post Making A Million From Sports Betting And Trading – July 2022 Results appeared first on Smart Sports Trader.